Overview
HPE 3PAR StoreServ 8000 Storage delivers the performance advantages of a purpose-built, flash-optimized architecture without compromising resiliency, data services, or data mobility. HPE 3PAR StoreServ 8000 Storage gives you a range of options that support true convergence of block and file protocols, all-flash array performance, and the use of spinning media to further optimize costs. Four models are available: 8200, 8400, 8440, and 8450. You can start small and grow without painful upgrades.
Users can install additional drives to upgrade partially populated drive enclosures, or elect to add enclosures. The HPE Support Center has authored " HPE 3PAR StoreServ 8000 Storage - Adding Drives and Expansion Drive Enclosures " that provides valuable information and limitations about drive and enclosure upgrades. Addtional information on select 3PAR SSD, SAS, NL SAS, and Encrypted (FIPS) Drives can be found from the Model/SKU, Spare Part, and Document links in the sidebars.
HPE 3PAR StoreServ 8000 SFF (2.5") Drive Enclosure Models H6Z26A / E7Y71A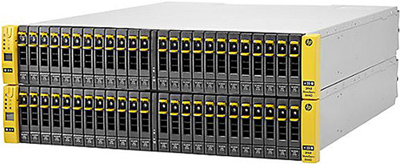 HPE 3PAR StoreServ 8000 LFF (3.5") Drive Enclosure Models H6Z27A / E7Y72A
NOTE: SSDs have a limited number of writes that can occur before reaching the SSD's write endurance limit. This limit is generally high enough so wear out will not occur during the expected service life of a 3PAR StoreServ Storage under the great majority of configurations, I/O patterns, and workloads. 3PAR StoreServ Storage tracks all writes to SSDs and can report the percent of the total write endurance limit that has been used. This allows any SSD approaching the write endurance limit to be proactively replaced before they are automatically spared out. An SSD has reached the maximum usage limit once it exceeds its write endurance limit. Following the product warranty period, SSDs that have exceeded the maximum usage limit will not be repaired or replaced under Hewlett Packard Enterprise Support contracts.
WARNING: If the 3PAR StoreServ Storage is enabled with the Data-at-Rest (DAR) encryption feature, only use the self-encrypting drives (SED/FIPS). Using a non-self-encrypting drive might cause errors during the upgrade process.
Contact our Technical Support team if you need assistance in ordering or integrating these HPE 3PAR StoreServ Enclosures and Drives into your environment.